(Published in Femina, November 13, 2013 issue)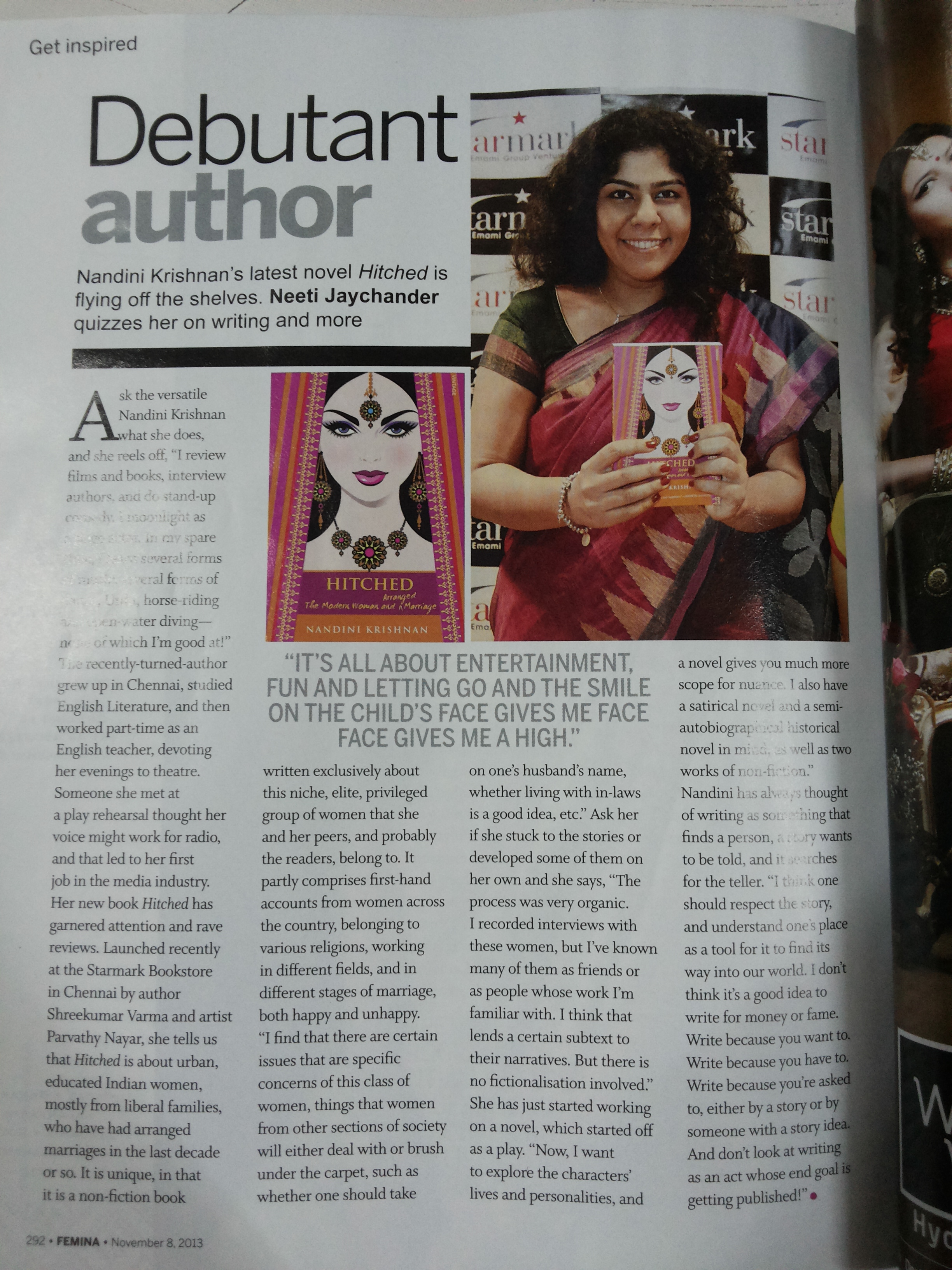 Tell us a little about yourself, your work and educational background.
I grew up in Madras, as it was then called. I studied English Literature, and then worked part-time as an English teacher, devoting my evenings to theatre. Someone I met at a play rehearsal thought my voice might work for radio, and that led to my first job in the media industry. I left to study broadcast journalism at the University of Westminster, and moved back to India after a few years. I worked with a news channel in Delhi, and started writing a humour column for a national daily. I also wrote plays, several of which were longlisted and one of which made the shortlist for The Hindu Metro Plus Playwright Award. I relocated to Madras in 2009, where I worked with a news portal. I decided to quit my job, to focus on my career in writing and theatre. Now, I review films and books, interview authors, and do stand-up comedy. I moonlight as a stage actor. In my spare time, I learn several forms of music, several forms of dance, Urdu, horse-riding and open-water diving (none of which I'm good at).
When did you know you wanted to write? What was the process of turning author like? Was it organic or a conscious decision?
I've known I wanted to write for at least as long as I could read…so, since I was about three years old. Before that, I couldn't sleep without being told a story by my aunt, my mum's younger sister. Then, I couldn't go to sleep without reading at least a page of a book. Eventually, I couldn't go to sleep without writing, or playing with sentences in my head. If it was a conscious decision to become a writer, it was made so early that I don't remember making it. When people asked me whether I wanted to be a doctor or an engineer, I would shudder and say I wanted to be a writer. They usually thought I was joking.
What is Hitched about? What sets this book apart from the other books that deal with the topic of marriages in India?
Hitched is about urban, educated Indian women, mostly from liberal families, who have had arranged marriages in the last ten years or so. I can't really compare it to other books about marriage, because I haven't read any others. But I don't think there's been a non-fiction book written exclusively about this niche, elite, privileged group of women that most of us belong to. The only books of this kind I can think of are raunchy novels about insatiable socialites. Hitched is a non-fiction book, partly comprising first-hand accounts from women across the country, belonging to various religions, working in different fields, and in different stages of marriage, both happy and unhappy. Many of these women have decided to study further or start working after having children. Some have had to cope with drastic changes in milieu. I find that there are certain issues that are specific concerns of this class of women – things that women from other sections of society will either deal with or brush under the carpet, such as whether one should take on one's husband's name, whether living with in-laws is a good idea, how one can sleep with a stranger, how to tackle intrusive questions about having children, and what adjustments a woman must make if she moves cities or countries.
You've stated that the book is largely based on interviews. How much of the original stories have you retained, and how much has been your interpretation / addition?
Hmm, the process was very organic. I recorded interviews with these women, but I've known many of them as friends or as people whose work I'm familiar with. I think that lends a certain subtext to their narratives. The book is roughly divided into two parts – the first is a series of personal accounts, and the second part deals with the concerns I spoke about earlier. Throughout, everything I've retained from the interviewees' own words is either within quotes or in reported speech. So, it's quite obvious which parts involve my own opinions, interpretations and analyses. Often, a particular experience an interviewee had been through would remind me of something I myself had been through, and I would put that down while writing her story. But there is no fictionalisation involved.
Is the process of getting published tough? How easy was it as a first-time author?
I think the publishing industry in India is very healthy, and it has very dynamic, quite brilliant editors who are constantly scouting for writers in various genres. I don't think the process is tough, because so many of them are accessible, at book launches and literature festivals. I felt very comfortable writing the book, partly because of the enormous support I received from the editors, and partly because the book brought together two elements – my experience in journalism and research, and my partiality to humour writing.
What do your future plans include?
I've just started working on a novel, which started off as a play. Now, I want to explore the characters' lives and personalities, and a novel gives you much more scope for nuance. I also have a satirical novel and a semi-autobiographical historical novel in mind, as well as two works of non-fiction.
Are there any tips out there for women who want to become writers? Dos and don'ts?
I've always thought of writing as something that finds a person – a story wants to be told, and it searches for the teller. I think one should respect the story, and understand one's place as a tool for it to find its way into our world. I don't think it's a good idea to write for money or fame. Write because you want to. Write because you have to. Write because you're asked to, either by a story or by someone with a story idea. And don't look at writing as an act whose end goal is getting published.