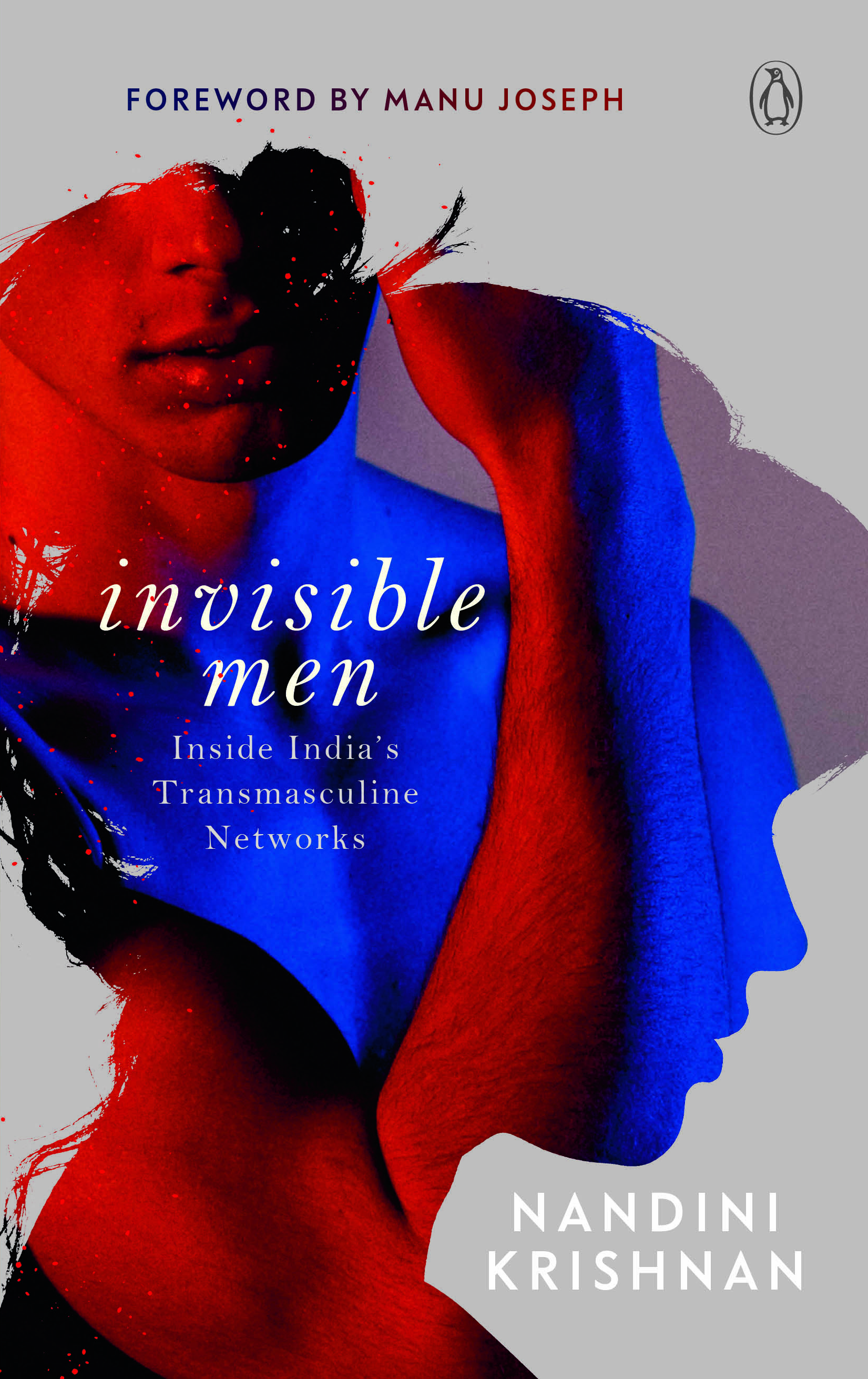 This evening, Firstpost published a piece which carried videos by five of my interviewees, Gee Imaan Semmalar – who gave me consent to quote him, but declined a direct interview – and the partner of one of my interviewees.
As I was drafting my response, I thought about the most crucial question here: why did I write Invisible Men: Inside India's Transmasculine Networks? What did I hope the book would achieve? How and why has it affected particular interviewees, whom I respect, consider friends, and have spoken to several times since its publication?
The reason I quit mainstream journalism was that I wanted to write stories that would make a difference to the people whose narratives they are – through advocacy, through legislation, through awareness. A long-form piece I had written for Fountain Ink magazine on transmen had been appreciated by my interviewees and other transmen who read it. But even 10,000 words did not allow me to draw the comprehensive picture I sought to. After reading the piece, several transmen I hadn't interviewed for it approached me, saying they wanted to share their stories. Books can contain as many words as the stories need. And books live forever.
The initial reaction to the book validated my intent – the website Gaysi Family published an interview, an excerpt, and a glowing review. Scroll published a nuanced review, which left me quite thrilled.
However, since the literature festival season began, the conversation around my book has been about my privilege, about consent, about my own politics, about the portrayal of my interviewees.
My resentment over labels that have been assigned to me, to say I should not be writing this book or promoting it at lit fests, has made me defensive. I have done my due diligence.
When Firstpost approached me with the allegations, in what I felt was a disingenuous manner – as I detail in my video, also carried in the story – I was angry. I had acrimonious conversations with both the reporter and the editor. The righteous anger I felt came through in the video response I sent them.
Following this, they have done a few more interviews, with transmen in the video and others in the book, and put out a piece.
When I read this story, the manner of reportage and the lack of due diligence – I was not approached for a response, this was the third article Firstpost carried against me, and the story itself falsifies the first line that "at least 22 transmen" have accused me of breach of trust – angered me, and I responded accordingly. I do have all the evidence in hand to counter claims that undermine my work.
I wondered why some of the transmen Firstpost quoted had said I had "tampered with emails", that I had never met them or taken their consent, that I had not offered to have my text translated, when I have hours of recordings, emails, text and WhatsApp exchanges, calls expressly to obtain consent, and perhaps most importantly – clarity of conscience – to show otherwise.
I spoke to several of them before writing this. I cannot make these conversations public, for the very reason my conscience is clear – everyone to whom I have spoken this evening does trust me.
I have issued some clarifications at the end of this piece, for the benefit of those who have asked me about the allegations.
But what is most important to me is that everyone who has contributed to the book be satisfied that their trust in me was not misplaced. I took up this book not from "cis-curiosity", but because of the moral and social obligations all journalists have to people, events, and concerns which are marginalised.
Rumi, Sunil, Priyan, Kiran, and Selvam let me into their lives. Some of their partners spoke to me about crucial issues. Karthik Bittu, Satya Rai Nagpaul, Vihaan Peethambar and several other activists spoke to me at length about their work, and about their own experiences with bureaucratic and systemic hurdles. I would not want any of them to feel I have portrayed them, or the community, negatively.
Every marginalised community – women, various sexuality minorities, oppressed castes and classes – is made up of individuals as well as collective notions. There are both wonderful and disturbing things in any discourse, and I have done my best to portray them honestly.
I have met Living Smile Vidya once, and read her memoir in the original Tamil. I certainly did not intend to criticise her for not sensing that "Sairam" was a transman. I simply meant that transmen were so invisible that even transwomen did not know of them at the time to which she referred.
There has been some hurt on both sides because of what I can only believe are misunderstandings. Rumi and Priyan believe I saw them as "women" and that I misgendered them. I do not see either of them as women. In Rumi's case, I had a phone conversation about using a quote from a film – as in the case of Living Smile Vidya's memoir – under fair use principles, by which it has to be portrayed as in the original. The solution offered by Sunil and Rumi to negotiate this was to use the person's current name and identified gender within parentheses, as I have done.
At the time I interviewed Kiran, he said much in praise of his partner, and when I asked if I should change either of their names in my reportage, he said he was happy for me to go with the original names. If something has occurred since for his partner to choose not to use her name, I am not aware of it. I have tremendous respect for Kiran, and some interpretations that I portrayed him as the victim of his parents' "failure" to give him the polio vaccination are misplaced – I write in the book that most people, even with access to premium healthcare in metropolises, did not vaccinate their children against polio. I was trying to draw attention to the lack of access and a systemic failure to spread awareness, when I spoke about Kiran.
I have much admiration for both Priyan and his partner, and my portrayal of their struggles was done in good faith, as was my portrayal of every single story in the book.
My reference to a fictitious character in a play as "kothi", the pronoun "he" and the usage of "it" as the translation for "adhu" have caused some people to take offence. This is a translation from a script devised by transwomen, and I consulted one of the authors about the pronoun I was to use. I added this explanation in a footnote.
For years, I have been troubled by the ideas and statements of feminists who believe transgender experiences should be excluded from feminist discourse. I have nothing to gain by misgendering, and did not intend to misgender anyone in the book.
My intention in writing this book was to start a conversation. I saw a void in queer writing – there has been little writing on transmen, and while individual narratives, and some sections of A. Revathi's book do provide insights into an underserved group within the LGBTQIA+ identities, I wanted to speak to those across castes, classes, religions, and orientations who felt their narratives should be in the public domain.
To the extent possible, the book contains direct narratives from transmen. I weaved in my own interpretations, because I believe the author's own vulnerability and honesty are crucial elements of research. This has not gone down well with some people, it has struck a chord with others, and opened me up to personal attacks from yet others. My intention in choosing this form was to, as I have said before, portray my own journey in understanding too.
I have been engaging privately with individuals I have interviewed to discuss the book, both before and after its publication.
Many, many transmen whom I interviewed have liked the book, and have given me detailed feedback on it. As for the inadvertent hurt caused by misunderstandings, I will continue to address it, and remain open to engaging with the community in whatever capacity I can.
I do want to offer support in every way to anyone who could benefit from my access and knowledge, whether it has to do with putting them in touch with doctors or with other transmen who may be able to advise them on specific issues – from negotiating acceptance by one's family and friends to changing their gender identities on legal documents – and I will do my best to help the community I set out to portray.
The focus of my exploration is how society treats "difference", and how the people I met have overcome this treatment. The author's eye offers one perspective. There will be others. I look forward to those.
Clarifications:
I did take consent from every person who appears in the book, anonymous or otherwise.
I had asked everyone who did not speak English if it was all right for me to send my text to translators I knew, or whether they would prefer to have someone of their choice translate it, since there may be portions they wanted me to delete. Naturally, I would undertake the expenses of translation. They all went with the latter choice. I had also asked them to have their partners check the contents, since I was quoting them.
In the case of two transmen who are not literate, I orally translated every word of their stories back to them for approval.
I have all the emails I sent to Priyan. Two of these were sent almost at the same time, on April 23, when I was seeking his approval for quotes. In January this year, he told me he had not received the one in which I told him specifics of the publishing process, and asked me to forward it. I did.
The excerpt in Indian Express did not mention Priyan's profession, his legal name, or any other identifier. I did not receive any email asking for it to be taken down. I have removed the cached version on my website after learning about his predicament.
An interpreter was arranged in Manipur, through an NGO I had approached for this purpose. The text was sent back to him for translation too, and he asked me to make a change after consulting the interviewees. He was, naturally, paid for his work. (Edit on February 5, 4:38 pm – one of the reasons I approached the NGO to arrange an interpreter was that I wanted the book to be community-driven, and was particular that the interpreter be a transman. The NGO obliged.)
Jovin was introduced to me for the magazine article, and I interviewed him in person. I met him a second time to give him a copy of the magazine. I spoke to him on the phone to ask his permission to reproduce it for the book.
I have not accused anyone of making threats. I am embedding my Facebook post on the matter here. For obvious reasons, I cannot elaborate further until investigations are complete: