(Reproduced from the website, from which this piece has been removed.)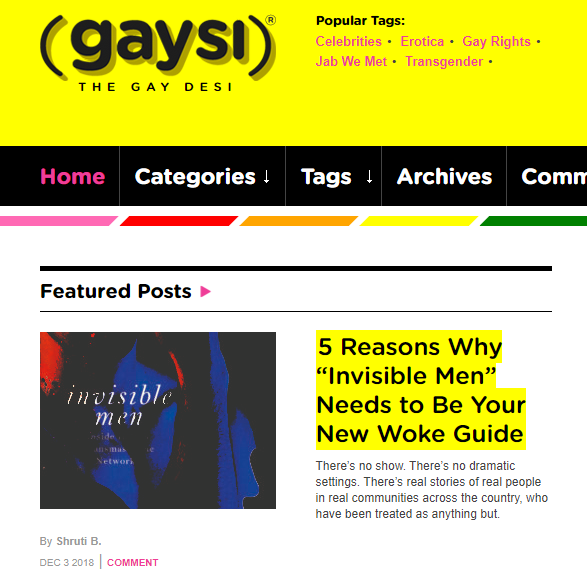 When Nandini Krishnan first set out to write Invisible Men, she walked in with her own limitations in understanding, both in terms of the topic at hand and in the direction the book would take. As the stories come flowing through, however, Invisible Men proves to be a lesson in understanding and new knowledge, both for the readers and the writer. Here's why the book needs to be on your bedside table right away:
Limited literature on transmasculinity in the market
As a society, we've been limited in our understanding of the trans and intersex community, both by virtue of our upbringing and our own biases. For a large segment of the population, the trans community has been restricted to only include transwomen (Male to Female), but little to no acknowledgement is given to the transmen (Female to Male). Our limitations in acceptance throw light on the systematic patriarchy and prejudices in our society, which have found a way to burrow themselves into both our psyche and our perceptions, and Krishnan subtly tackles this matter without pomp and show. Stories tackle subjects like the media's portrayal and subject treatment of the transmasculine community, sexual and mental health, religion, family acceptance, and overall, love.
Beautiful storytelling, both by the storytellers and the author
Krishnan set out to broaden her own understanding of a community in the shadows, and emerged with tales so varied and intricately simple. As a reader, everything the subjects discuss makes sense—that their need for acceptance and request for simple rights and courtesies is something that seems obvious to larger populations. But the conditions that the transmasculine community is subjected to shines a light on how we as a society have failed to provide them with just that. Each story, while unique, shares this singular theme. Krishnan does justice to the tales she shares by peppering the book with her own journey of growth with regards to learning about the transmasculine community.
Weaves in and out of emotion and fact
Reading each story feels like you're right there with the storyteller. Without the need for much detail, Krishnan sets the stage, helping the reader dive right in to each new tale. The different structural formats for each story further help with setting the scene for the reader. The conversational nature of the storytellers also helps the reader feel like they're engaged in a one-on-one with each and every single person. While providing facts to help set the base, Krishnan and her friends (as she now addresses them) tackle everything in the emotional, factual, and physiological spheres.
Isn't propagandist in nature
The book doesn't scream its intentions at you or show right from wrong in big flashing lights. Although there's a lot of actual storytelling, each tale does more to show than tell. Krishnan's own inputs help further the scenarios presented by the storytellers, and she's been insightful about how such an important topic and everything surrounding it need to be treated in a delicately simple manner. This is one of those books you could potentially hand over to a less-than-understanding friend to help open up their minds just a smidge.
Provides a raw, real look at a community often overlooked
There's no show. There's no dramatic settings. There's real stories of real people in real communities across the country, who have been treated as anything but. There is strength, resilience, humour, joy, sorrow, and every other emotion on the spectrum. It doesn't put the transmasculine community on a pedestal or in a cage for public viewing—instead, Krishnan is careful about her treatment and language to reduce any divisiveness that may exist in a reader's mind between their own social groups and the trans and intersex community. There is no "us" and "them". There is "everyone".
Reading this book as a cisgender woman, I had my own inhibitions, given that it was written by another cisgender woman. Krishnan, however, has been honest enough about her own privilege, and does a wonderful job of putting knowledge before existing understanding. Addressing her own limitations and privilege, she sets about a trail of growth, hand in hand with each of her new friends.


About the author

Shruti is a writer and designer who has a hard time writing about herself. She is passionate about feminism, mental health, good art, literature, and puppies. When she's not daydreaming about Harry Potter, she can be found trapped in a YouTube blackhole, or impulsively buying more books than she can read.